There aren't a lot of General Discussions Threads, so I thought I'd start one. And what's more universal than food? Favorite foods, least favorite foods, interesting foods, food stories, recipes, questions, anything food related.
My favorite food is probably this one dish that my great grandpa used to make (that I eventually learned how), which involves flouring and then braising chicken breasts in onions, white wine, and three-six kinds of olives (depending on whatever you have on hand). Typically served on pasta.
Some honorable mentions go to chicken fried steak and mashed potatoes, yellow chicken curry, oysters on the half shell, and of course, the contents of this plate: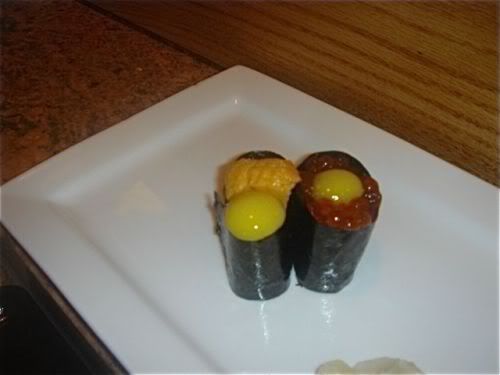 (That's sea urchin in one, salmon roe in the other, both topped with raw quail eggs.)
My least favorite food is probably liver. I've had some really good tasting liver, but the texture just makes me gag (unfortunately).